Metering Roller/Dampening System Roller Cleaners & Desensitizers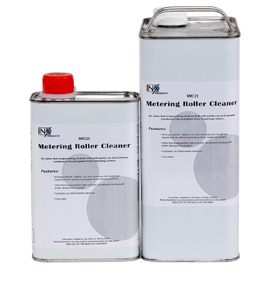 For effective cleaning and desensitizing of dampening system/metering rollers, INX Products has a solution for your application.
Choose the ultra fast-drying MRC23 to cut ink glaze and grease, or for a tough cleaner with low VOCs, try MRC33 Low VOC Metering Roller Cleaner.  Both cleaners dry fast and leave metal rollers clean and residue free.
For strong cleaning action, metal treatment,/desensitizing in a single product, try MRC43 Metering Roller Cleaner/Desensitizer. 
---